Mardi Gras in the Mountains, Red River, NM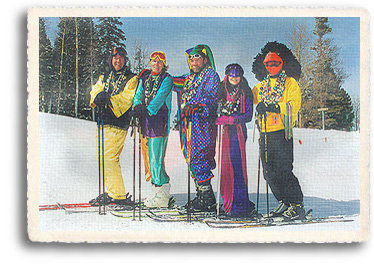 In New Orleans and Lafayette, LA, Mardi Gras is known as the biggest, most colorful, noisiest celebration in the world. Carnival time in Acadiana combines Cajun magic and Mardi Gras mystery to create a once-in-a-lifetime experience for revelers of all areas.

Traditionally, the term Mardi Gras, or Fat Tuesday refers to the Roman Catholic religious holiday which occurs on the eve of the Ash Wednesday, a time of sacrifice and fasting for Catholics. Historically many Catholic cultures have developed a celebration of merry-making before entering the Lenten season. This time of celebration has evolved into the Mardi Gras carnival season that is celebrated today.

Too magical to limit to one day, the carnival season officially opens on the Epiphany twelve days after Christmas and ends on Fat Tuesday Mardi Gras Day.

Mardi Gras Makes its Way to the Mountains
No one knows for sure how Mardi Gras came to the Mountains. One myth has it that a gold prospector "from Lafayette or Houma or Mamou maybe" made his way to the Red River Valley just before the turn of the 20th century in search of the precious substance. Unaccustomed to the snow and cold weather, and the effects of being confined to the indoors for the winter, the miner found some much needed relief from cabin fever by introducing Mardi Gras to his fellow miners. Legend has it that the dance halls of Red River City were soon jumping with the sounds of squeezebox and Cajun fiddle.

At least that's the way one story goes. But for sure...

Mardi Gras is such a big event in Louisiana, that schools are closed for the week, giving Louisiana families a late winter or early spring vacation. Over the years, more and more Louisiana folks have chosen to spend the week before Mardi Gras in Red River, enjoying a ski holiday and the relatively quiet atmosphere. In 1992, Red River decided to honor their visitors from Louisiana by throwing them their own Mardi Gras-Away-From-Home. And those folks from the Delta couldn't have picked a better mountain town to throw them a Mardi Gras celebration, because Red River is a town that knows how to party!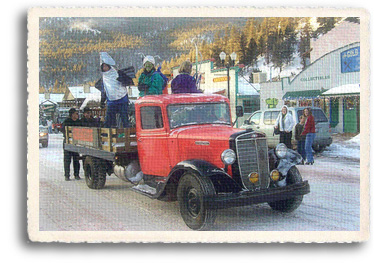 Today, Red River's "Mardi Gras in the Mountains" is a six-day celebration inspired by the Louisiana Cajun traditions, ending on the official day of Mardi Gras. Opening night is the burning of the Wild Tchoupitoula. Locals and vacationers alike turn out in ski gear and full Mardi Gras regalia for the daily parades, with krewes in costume tossing Mardi Gras beads. The Grand Ball is a full-on costume event following the torchlight parade, with night tubing and dancing to Cajun and Zydeco, of course! There is a drink-making contest, live creole music, and of course, spicy Cajun cookin' at the Cajun Cook-Off and the crawfish boils. There are bead tosses at the ski area, so even those who can't break away from the slopes are fully adorned for Mardi Gras. And last, but certainly not least, is the downhill Gator Race!

Just about everyone gets into the parade action, including tots on tricycles and family pets. It's a fun time for all, and a sight to behold! For Red River locals, it's a great way to chase away cabin fever and lose the mid-winter blues. It's no wonder that Mardi Gras in the Mountains has been voted the Best Event in New Mexico.

So for those who can't get to New Orleans for Fat Tuesday, or perhaps need a Mardi Gras change of pace, the question is: where else can you see a two hundred pound alligator on a snowboard or a six-foot jester with a three-foot crawfish on his head skiing down a snow-covered mountain in broad daylight? Come to Red River for Mardi Gras and Laissez les bon temps rouler!

Red River's Mardi Gras in The Mountains Video

Burning of the Wild Tchoupitoula Video