Red River Memorial Day Motorcycle Rally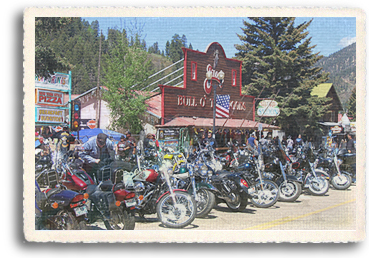 The Red River Memorial Day Motorcycle Rally, also known by many as New Mexico Bike Week, started in the Southern Rockies resort town of Red River in 1983, with about 40 bikers in attendance. Since then it has grown to approximately 30,000 revelers, many of whom also enjoy the hospitality of the surrounding towns of Angel Fire, Eagle Nest, Taos and Questa.

Red River is one of New Mexico's most popular summer vacation destinations for its breathtaking scenery and cool mountain temperatures. Just a short drive from Colorado, it has been a popular summer resort destination for those who want to beat the heat of Texas and Oklahoma for nearly a century. Located in the high peaks of the Sangre de Cristo Range of the Rocky Mountains, Red River is surrounded by over 1 million acres of the Carson National Forest, offering a wealth of recreational activities and some spectacular mountain rides. One ride scheduled during the rally is the Enchanted Circle Scenic Byway, one of Northern New Mexico's most popular day trips. This more than 80 mile trip takes you through Eagle Nest, Angel Fire, Taos and Questa, through alpine forest and across high desert plateaus. For explorers, this beautiful ride has a lot to offer, including the Vietnam Veteran's Memorial in Angel Fire, the oldest continually inhabited pueblo in America, the Taos Gorge, the DH Lawrence Ranch, Wild and Scenic Rivers and Valle Vidal.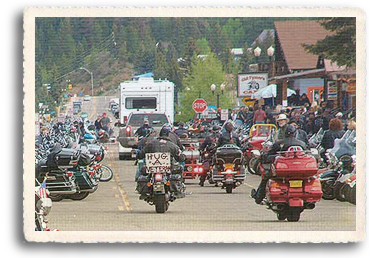 A Weekend of Great Rides and Events
The weekend includes a parade to the Vietnam Veterans Memorial State Park in Angel Fire, as well as Steve Stucker's Rally in the Valley, a charity motorcycle ride to benefit Make-A-Wish of New Mexico. The tour takes in some of Northern New Mexico's most beautiful scenery, including Bobcat Pass, Cimmaron Canyon, Eagle Nest Lake & Angel Fire's Vietnam Veteran's Memorial. Biker contests and other events will be held at the local bars, including a raffle, and more to be announced.

The rally is of course, a great place to see fantastic classic and custom bikes!

Enjoy Cool Days and Cooler Nights in Red River
If you are not familiar with high altitude weather, be aware that temperatures fluctuate during the day, and can cool down quite a bit in the evening, with night-time temperatures often approaching freezing. Mountain areas are known for quick changes in the weather, so be sure to bring rain gear and warm clothes along with your cut-offs and tees.


Pictured top right: 30,000 bikers descend on Red River New Mexico each year for the Memorial Day Weekend Motorcycle Rally

Pictured bottom right: Bikers prepare to head off to Angel Fire to visit the Vietnam Veterans Memorial


Back to The Enchanted Circle

Back to Taos Unlimited