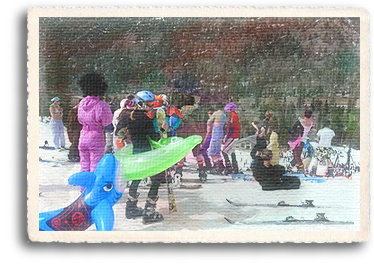 Spring Break in Northern New Mexico

With the ski season winding down, it's not common knowledge that March is the best snow fall month in NM. And there are many great activities happening at Northern New Mexico's ski resort towns during February and March. For snow sports enthusiasts, it is the Spring Break destination of choice. But that doesn't mean you have to miss out on Mardi Gras or the beach! Those seeking world class skiing are sure to find their niche at Taos Ski Valley, and there is no better ski destination for families and those who want a more relaxed ski vacation experience than Red River or Angel Fire. Each of these resorts sponsors Spring Break related events, ending their seasons with the traditional Pond Skimming. So bring your suits, tubes and pool toys...and don't forget your skis or snowboards!

Angel Fire:
Spring Break at Angel Fire is a mix of vacationing families and young revelers, with events planned to be fun for all. Enjoy the annual "Fiesta del Sol" during Spring Break, a week long celebration combining spring break fun with sporting events, including wild competitions, terrain park challenges, snow volleyball, pond skimming, live music, après ski parties and night skiing as well as tubing.

Bring your swimsuit! March 17th is the St. Patrick's Shamrocks and Swimsuits Party.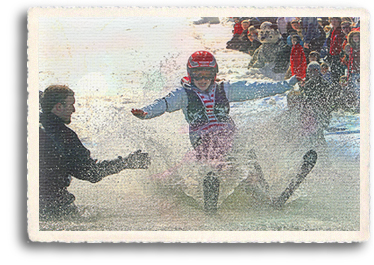 Red River:
Red River celebrates Mardi Gras with a 6 day, 50+ events party. Spring Break often overlaps Mardi Gras celebrations for double the fun. More on Red River's Mardi Gras in the Mountains.

Red River Celebreates Spring Break Beach Week
Head to the Lift House to sample some of the finest beers in the region from visiting breweries Saturdays in March. And wrap up Spring Break and Beach Week with a spectacular dispay of courage (or stupidity) at the end of season Pond Skim! Participants ski or ride down a portion of The Face in a daring attempt to skim across a pond at the base of the mountain. The fun is open to everyone, whether you try it yourself, or join the crowd of spectators on the deck at the Lift House. There is great food and fun for everyone.

Gear up for the Spring Break Torchlight & Fireworks Parade, with the biggest fireworks display of the season. There's a Kid's Glow Stick Parade, with Glow Sticks instead of torches, and instead of skiing the Face, they ski down the Bump! It's a real treat for the whole family, with hot dogs for everyone! Other events include the Penguin Plunge and the Hula Contest.

Taos Ski Valley:
There are several days of tubing events, the 2011 Salomon Freeride Championship, and a Telemark Camp. Live Music is featured at numerous Taos Ski Valley venues as well as a celebration of Mardi Gras. And don't forget the annual End of Season Pond Skimming.

Spring Break Events Videos:
Red River Annual Spring Break Beach Week Pond Skim

Taos Ski Valley Pond Jump..by the Tooth Fairy!